Content Strategy For Nonprofits - 7 Simple And Effective Steps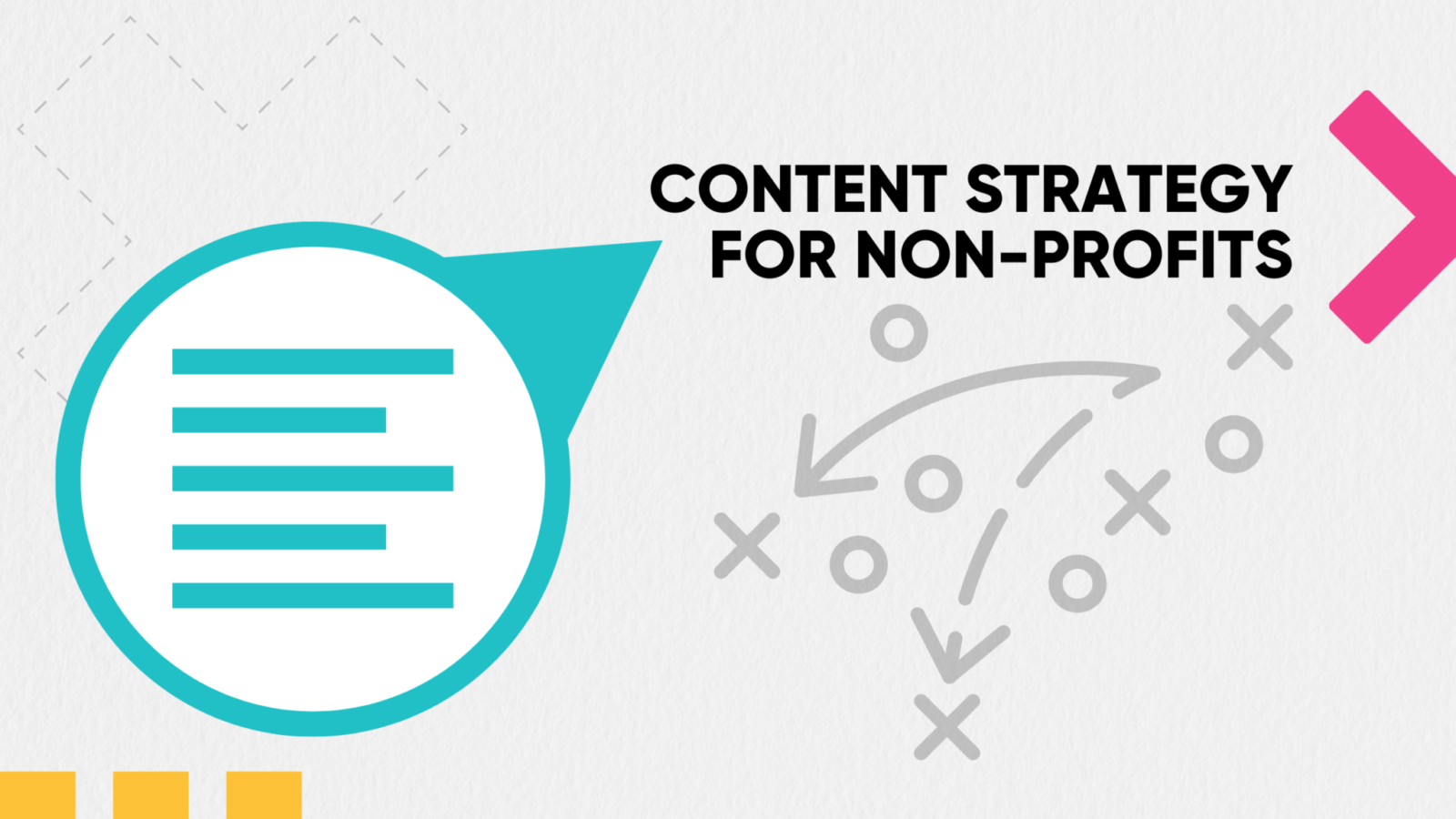 Ok, you've been tasked to spearhead your nonprofit marketing campaign.
You've also stumbled upon the wealth of information related to content marketing for nonprofits, including marketing idioms such as "content is king," and other industry vernacular.
So where do you start? Content marketing for nonprofits can be quite simple if you have a clear strategy to follow.
In this digestible guide we offer seven steps to plan, develop and execute your content marketing campaign.
It's no magical formula but it will get you well on your way to make wise first steps.
Need An Efficient Strategy For Your Nonprofit?
Partner With Us To Take Your Mission A (Huge) Step Further.
What Is Content Strategy For Nonprofits?
Content strategy is an integral part of an overall marketing campaign and digital marketing strategy in particular.
Strategy is about how to reach your goals and objectives. Therefore, content strategy for nonprofits is about how to leverage your organization's assets (useful and relevant information, articles, digital resources and media) to fulfill your organization's vision and mission.
This means that content marketing extends beyond just content creation. Content strategy entails defining a target audience and identifying goals for each project.
Content is king but context is key.
So below we lay out where content strategy fits into the big picture for nonprofit organizations.
Nonprofit Marketing Campaign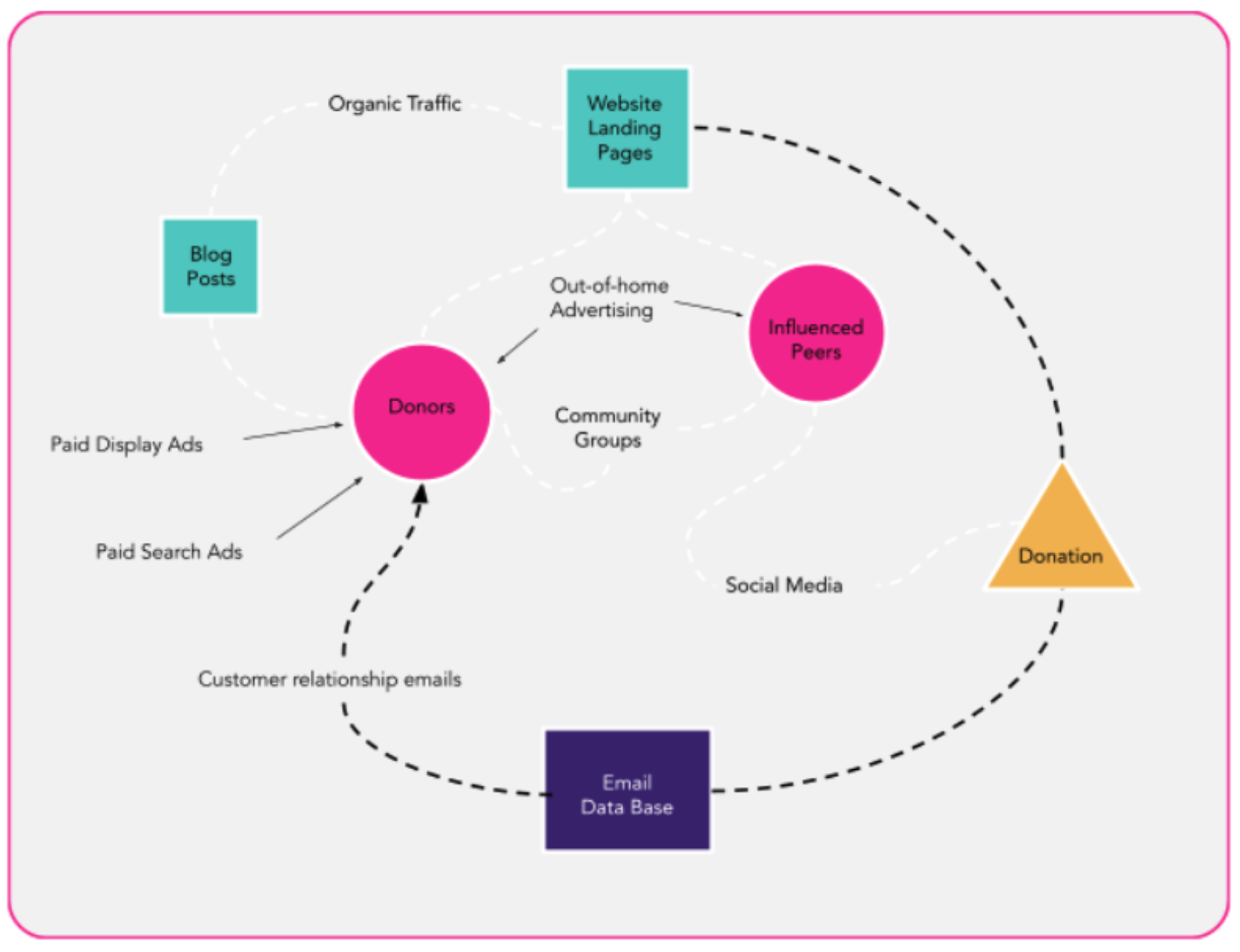 Marketing campaigns in general are a set of related activities designed with a specific business objective in mind. Content marketing for nonprofits is no different and fulfills certain aspects of an overall marketing campaign.
Content success comes from the strategic coordination and alignment with other channels such as email, social media, website optimization along with influencer identification and thought leadership. These pieces fit together in a fundraising ecosystem.
Ideally, these various parts of a digital fundraising ecosystem create a synergy that increases awareness around your mission.
Digital Marketing Strategy For Nonprofits
Digital marketing for nonprofits is marketing that uses digital channels, strategy and tactics to connect with people who might be interested in your mission.
Content marketing lives and operates in these digital channels which is represented by all the parts in the diagram above besides out-of-home advertising and direct mail.
Content Marketing For Nonprofits
Content marketing in general is a marketing technique focused on creating and distributing valuable, relevant and consistent content to attract and acquire a clearly defined audience.
The objective? Drive meaningful engagement and action from constituents.
Content itself can take many forms including an email newsletter, e-book, video, white paper, case study and webinar among other options.
So without further ado, below are our top 7 steps for effective content marketing strategy for nonprofits.
7 Content Marketing Steps
Define Your Audience and Goals
Your Audience
Content strategy isn't linear and we can't control who exactly is going to interact with your content. However, having a rough idea of who might come across your blog post or video is still a smart approach.
You can start off by creating a donor persona which is a profile of your ideal donor.

For instance, we worked with a faith-based nonprofit that needed to identify what their ideal repeat donor is like. Some nonprofits may decide to put an actual face to a profile but a simple google doc description like the one below can work just as well:

Your Goals
What are your general and specific goals and outcomes? What actions should be taken by your constituents? Be specific as possible and ask questions such as:
Should more people sign up to benefit from your organization's programs and services?
Does your organization need sign ups from volunteers?
Do you want to get leads from potential donors?
Do you want to increase awareness about a particular person or topic by driving more traffic to a specific page?
Defining such goals will help shape your content strategy.
Note that all of these goals should somehow be measurable through an online interaction.
For example, we setup tracking for one of our clients so that each form submitted by prospective students was counted as a conversion action using Google Tag Manager and Google Analytics.
Audit Content and Research Related Organizations
Auditing your organization's existing content is a great opportunity for learning where your content gaps and opportunities are found.
It's about taking inventory of all content.
Content inventory includes analyzing all assets such as organizational information both online and offline, media assets along with identification of gaps requiring strategy development.
Analyzing blog content is an easy task to tackle.
You can start by finding which blogs are currently performing the best based on average time spent on page from certain channels.
The example below shows that we analyzed social media, organic and paid traffic to those blog posts.
Then we tagged and grouped blog content by topic so that those blog posts can be better optimized around the same topic.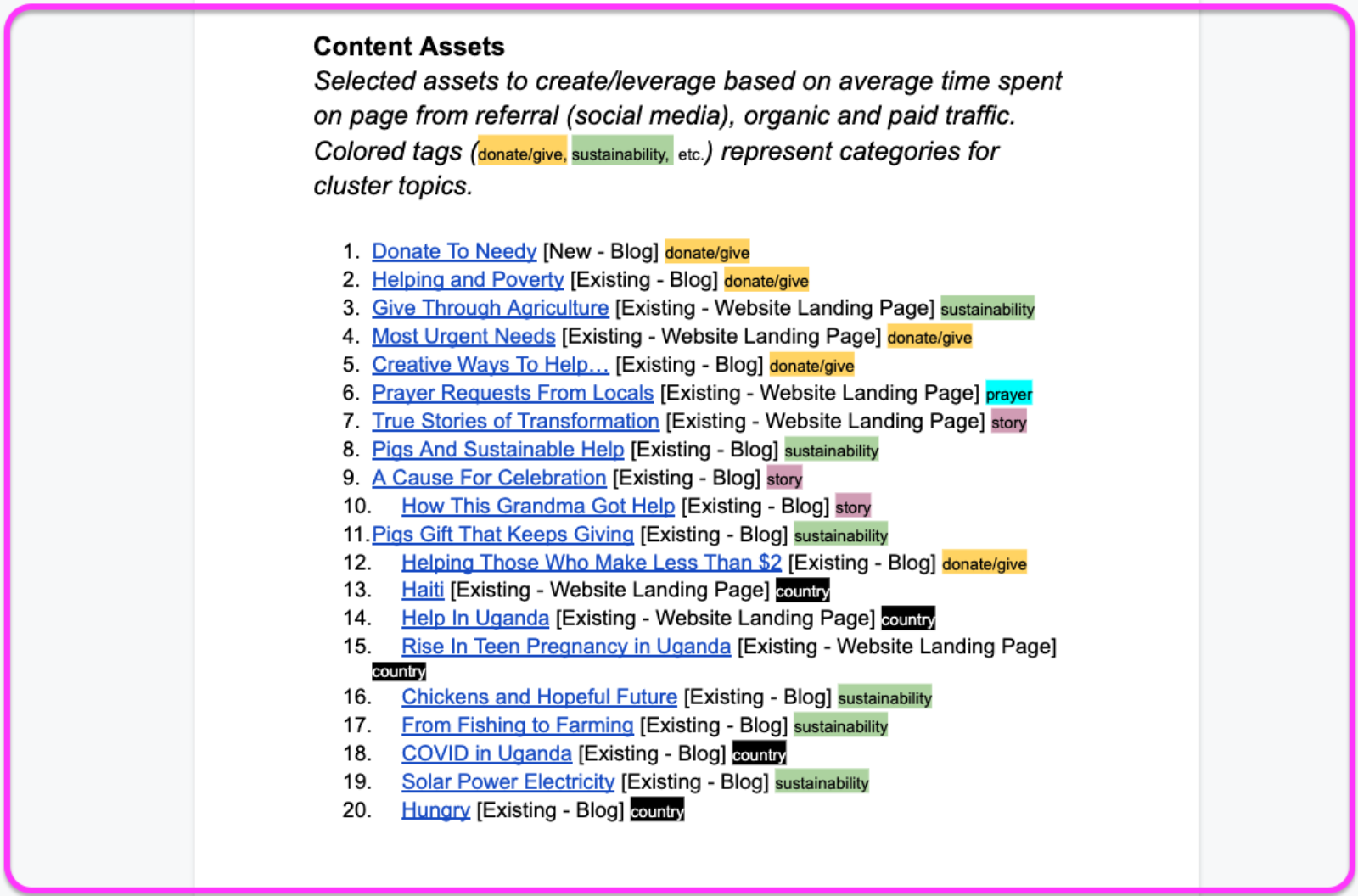 Another important step is to research nonprofits with the same or similar mission. An audit helps you discover who they are and what their strategies look like to inform your content strategy.
Identify ways to achieve your goals with your content.
What are the specific pain points and solutions for your constituents? In other words, how can you create content that addresses these pain points and challenges?
Talk to internal team members and "get in the field" to determine what is the best type and format of content to effectively solve these pain points.
Outline And Create Each Content Piece
Create an outline for a blog post (or other medium) with the audience and one main objective.
The previous step of mapping content pieces to a specific goal can be inserted into a creative brief for a blog post.
This next example shows a creative brief for a blog outline for an SEO goal - the goal is to provide helpful information that specifically answers a particular question.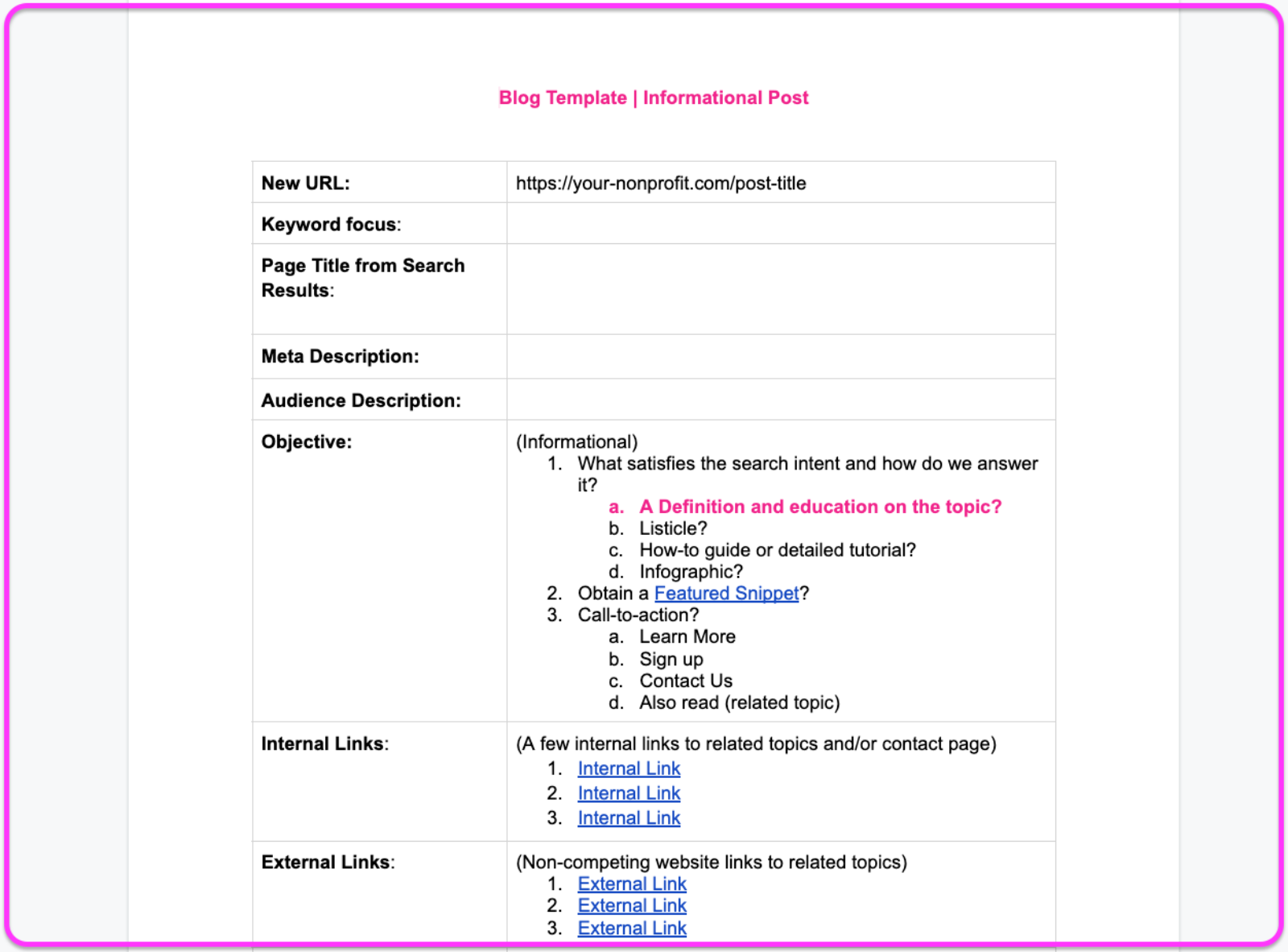 Of course, your choice of content may not always be a blog post, but an outline and similar plan for any format is a crucial step.
Set Up Key Performance Indicators To Measure Content Success
It's important to measure your content by setting up key performance indicators (KPIs).
Content is not only feedback but also knowledge.
Setting up KPIs will help you measure your content, and may require technical expertise to set up KPIs through tools like Google Analytics, Google Tag Manager and/or Google Data Studio (as shown below).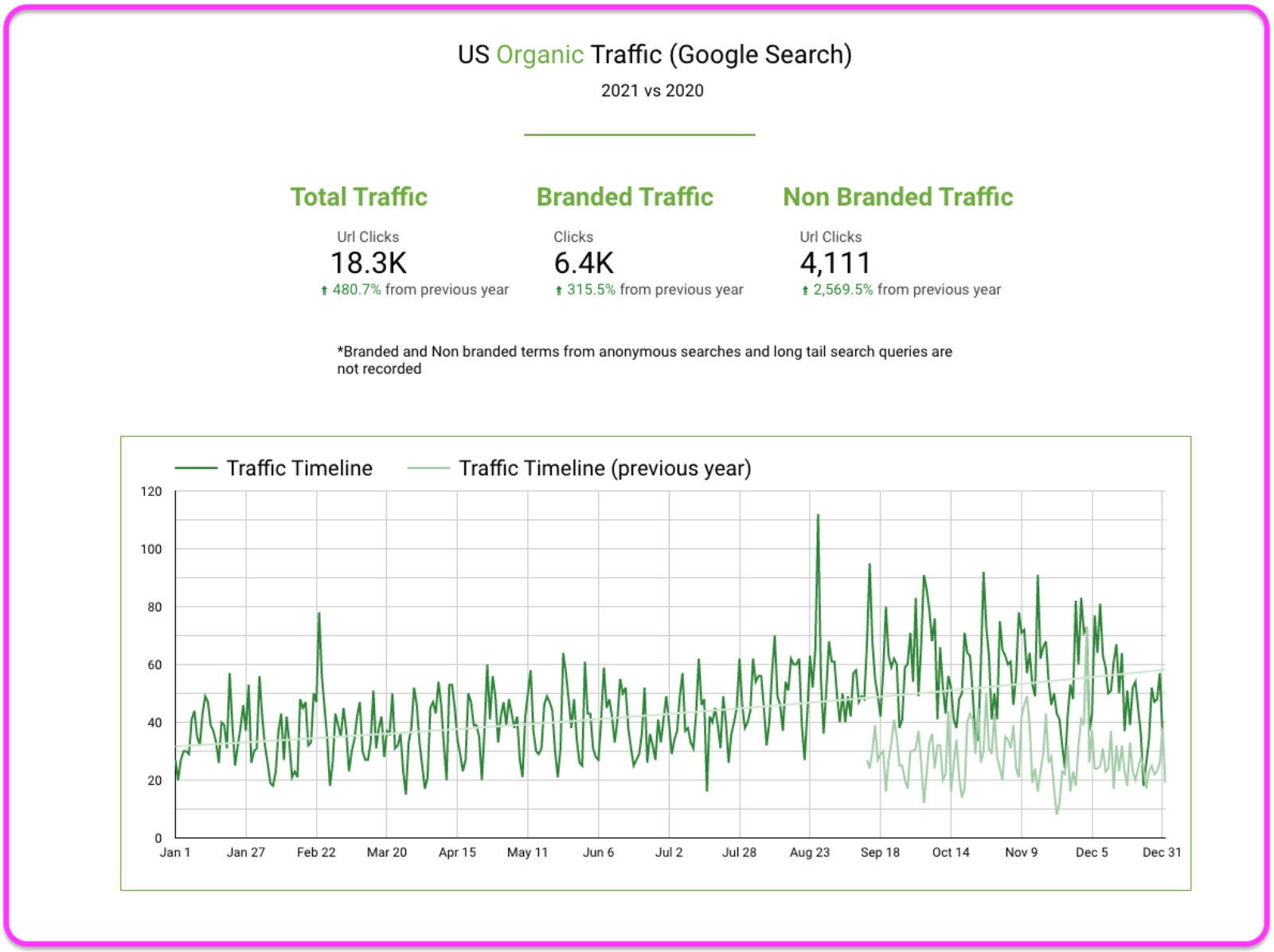 For example, these branded vs. non-branded traffic numbers are very helpful KPIs that tell us how much brand awareness has grown over time through our search engine optimization campaign.
The non-branded search traffic is not tied to the organization's name, so this tells us how this nonprofit is competing against similar organizations.
Choose The Right Digital Platform To Distribute The Content
A variety of platforms in the digital channel enable you to distribute your content based on your strategy.
Content distribution is about being in the right place at the right time.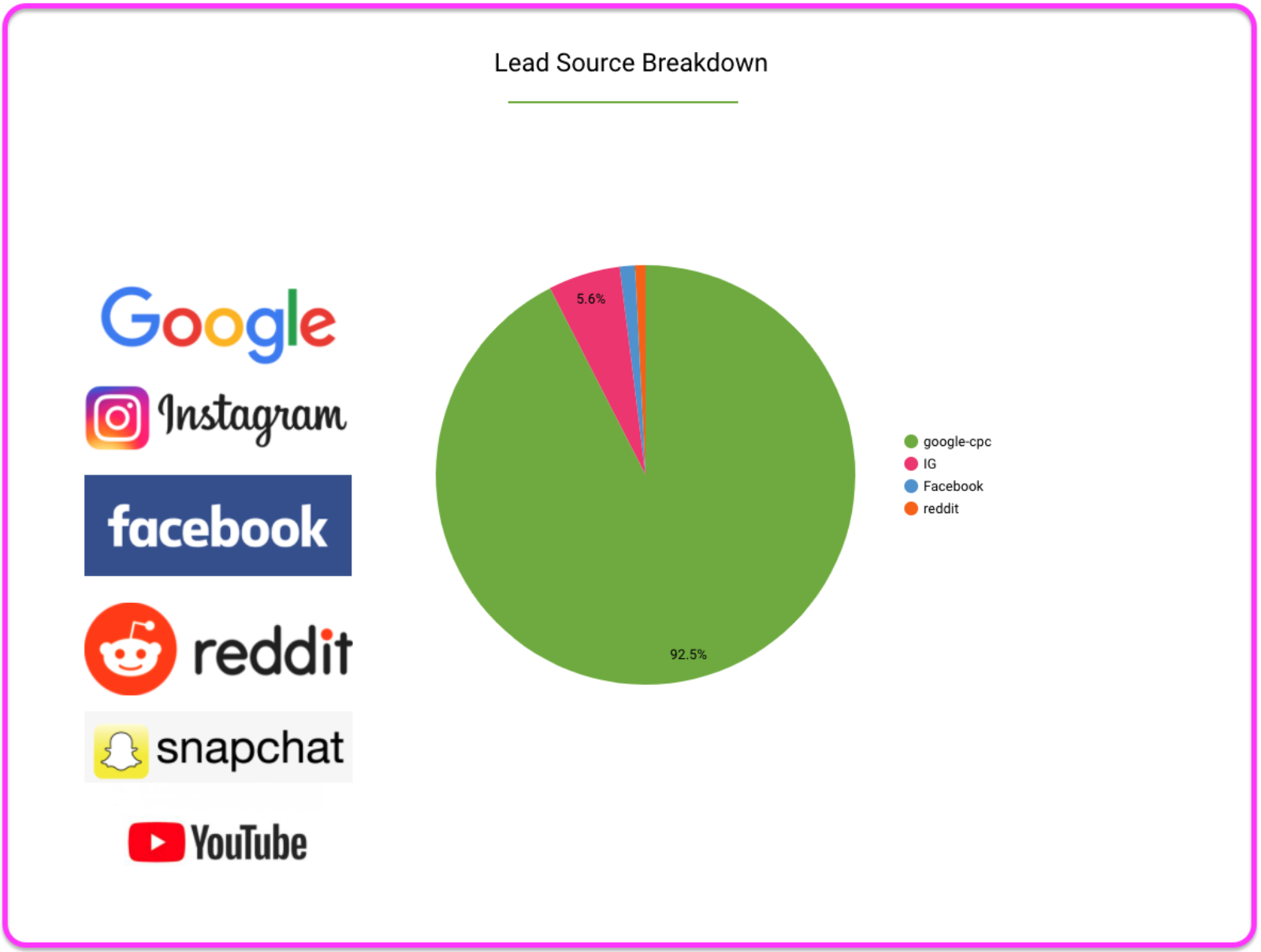 Social media and blog posts are two great ways to distribute content.Content ideas can also be created through newsletters and email marketing if your constituents value consistent updates.
Video can also be a great way to engage people since storytelling is a more powerful way to engage emotionally with your audience.
Or perhaps your audience and mission belongs in a series of podcasts?
If you're being thoughtful and nimble with your content strategy, keep in mind that visual learners may just need a beautiful and informative infographic.
All these distribution platforms should be easily accessible through your website.
Monitor, Evaluate And Adjust Content, Then Repeat
Regular evaluation of your content is important so you can optimize your content creation process.
Content that is valued by the audience should be promoted more while less popular content pieces should be reassessed.
Content that fails should be eliminated or adjusted.
The above Google Data Studio report shows organic traffic performance. Clearly some blog content is generating a lot of traffic while other piece of content needs both time and perhaps improvement.
Thoughtful content strategy for nonprofits can be just as effective as efforts made in other businesses or industries.
One reason is because nonprofits engage with those who care deeply about your mission and those working for similar causes.
Whether you designate a Chief Content Officer, outsource a Content Marketing Service or hire a Content Strategist to partner with your organization, someone has to be responsible for planning, creating, organizing and distributing content.
Your organization's goals to reach a larger audience are not futile, so start with these strategic steps!
Custom Tailored Content Strategy
Every nonprofit needs a customized strategy and partnership for long haul.