The Pros and Cons of Marketing Automation for Nonprofits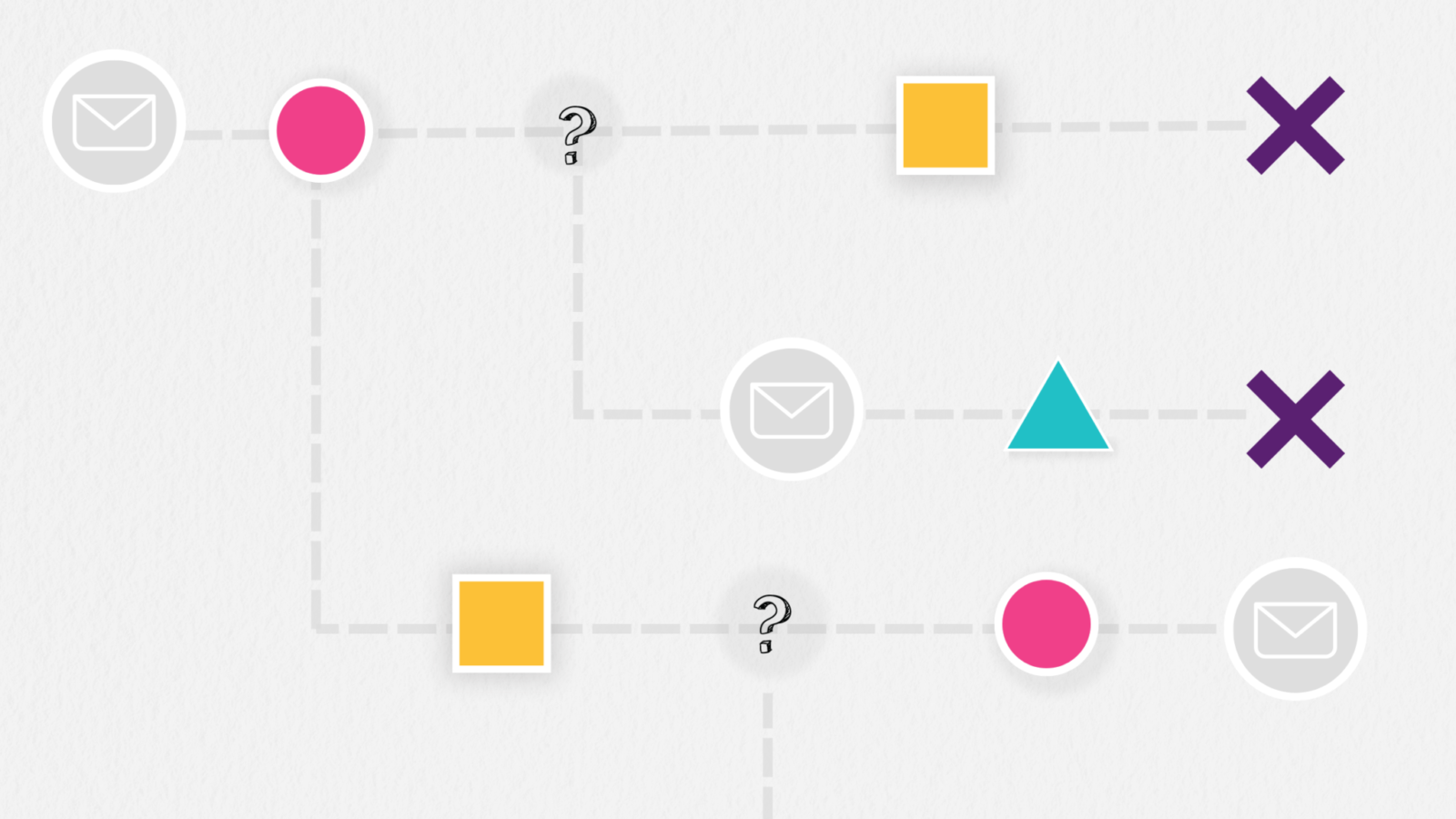 There are countless donors and you want to respect each one just the same as the most generous or loyal supporter. Marketing automation can be your best friend when trying to manage a nonprofit for that purpose, but be careful because it can also end up hurting your brand.
This article sums up what is good and what can potentially be bad when using marketing automation as a nonprofit. As an Advocacy Director, Campaign, Development or Fundraising Manager, you can better assess and take ownership of how this or other digital technology can be harnessed to further your mission.
What Are Examples of Marketing Automation for Nonprofits?
Marketing automation is software that takes an established, manual process of marketing and sales, then automates everything including but not limited to emails, social media, and other website interactions. There are digital marketing agencies that can do this for nonprofits, but depending on capabilities (more on that later).
Purpose
The main purpose of marketing automation for nonprofits is to free up time so you can focus on your mission rather than your Marketing To-Do's. Spend more time face to face at events, on calls and build relationships that matter most to your mission.
Some Examples
Need quick examples of effective automated emails? I took some examples of Rocket Park's clients and some nonprofit email communications that I get in my own inbox. You will notice some important themes that characterize the greatest benefits of automation (more on that later).
Welcome Emails
No nonprofit can afford to underestimate the power of a strong introduction through an automated welcome email.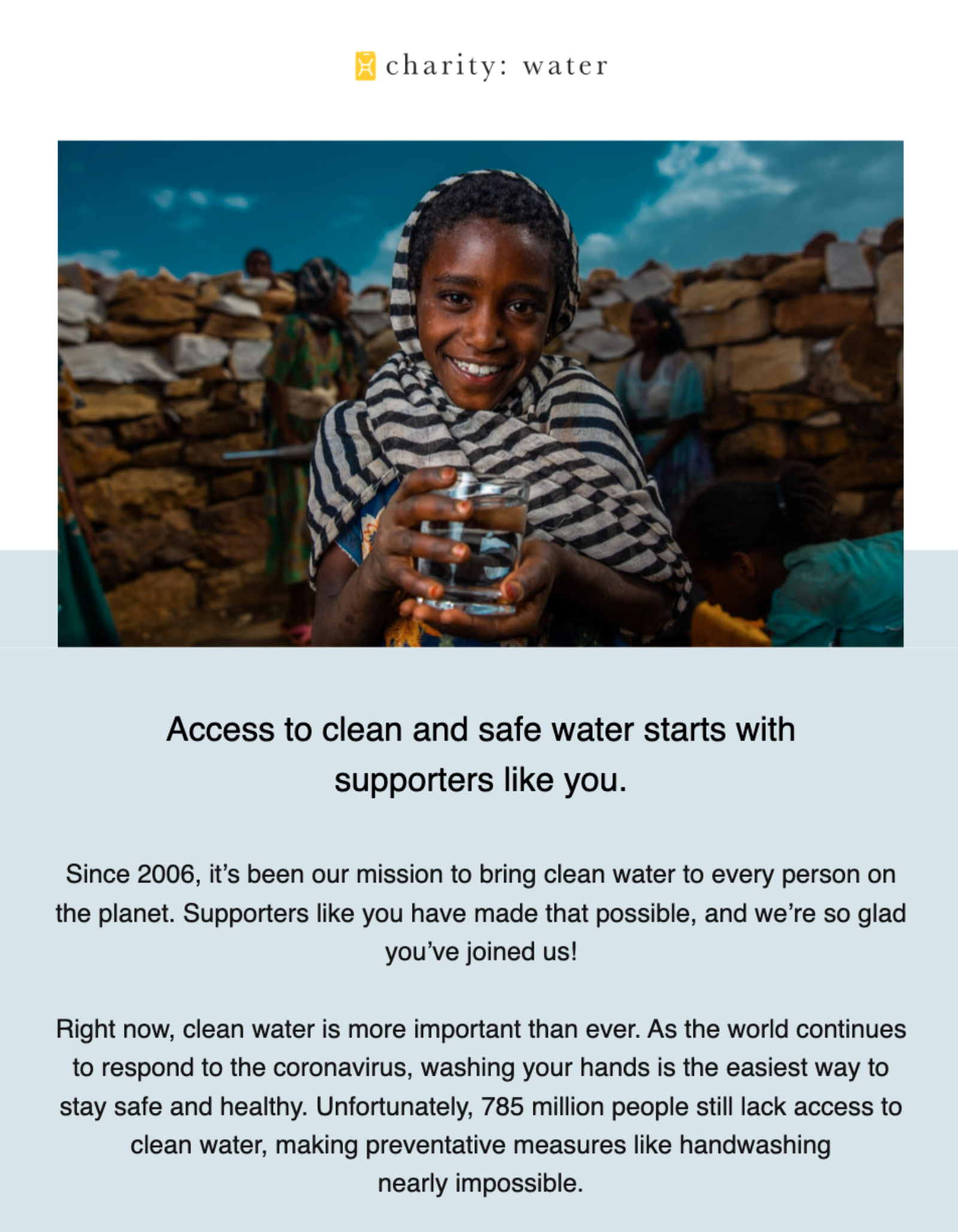 It's truly a humbling honor that someone found your organization online and signed up to 1) receive regular emails 2) donate one-time or on a regular basis 3) or perhaps to do some volunteer work. Whatever the intent was, it all amounts to a very meaningful action initiated through your website.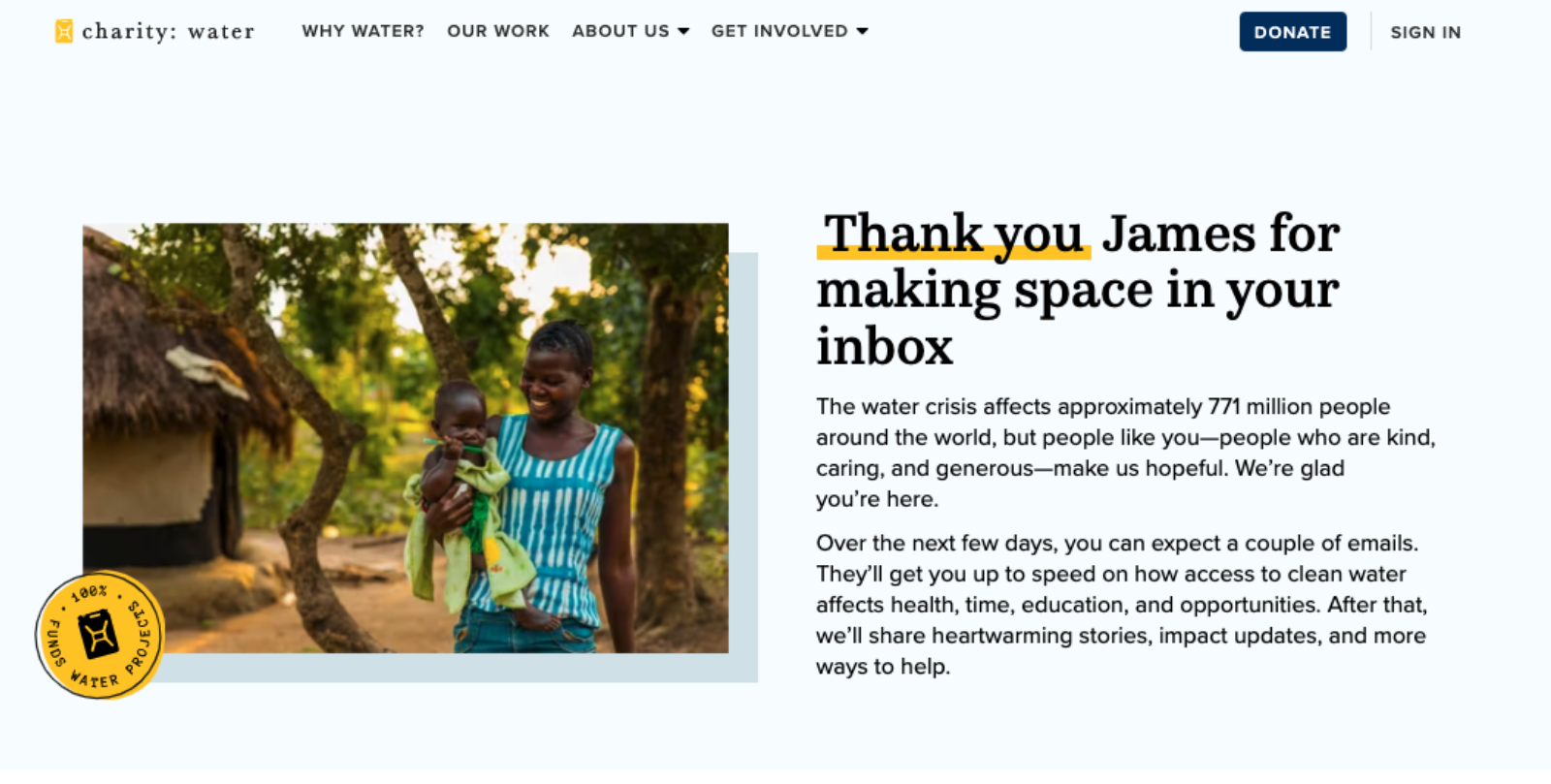 Even an instant message on the website is such a nice added touch of consistent and seamless communication. The whole experience, no matter how seemingly scannable on desktop or mobile, is still a very important piece of marketing that matters to any potential supporter.
Call to Action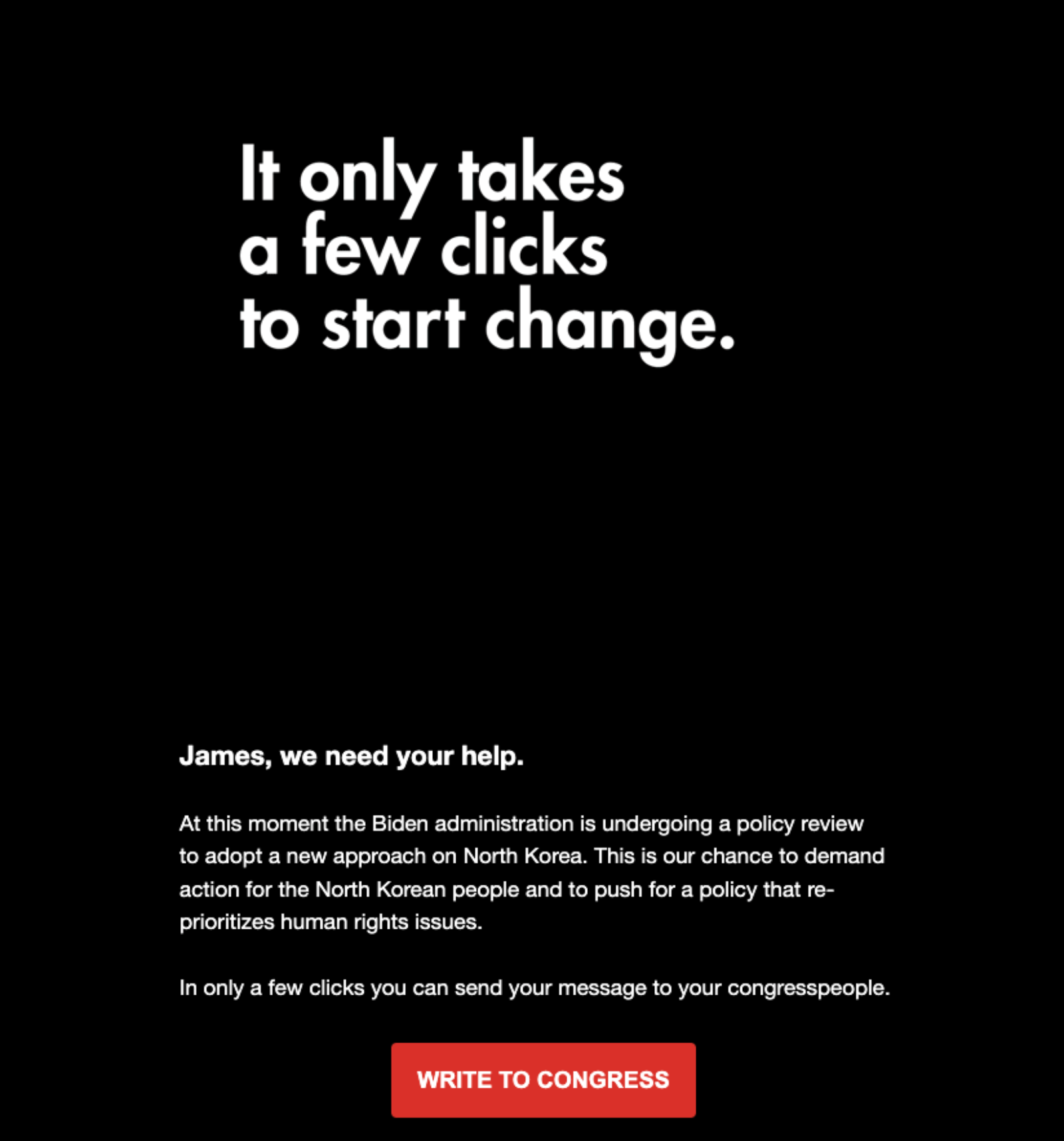 Liberty in North Korea sends out bold, creative and inspiring emails to inform their supporters of important ways to get involved and to align themselves with their mission.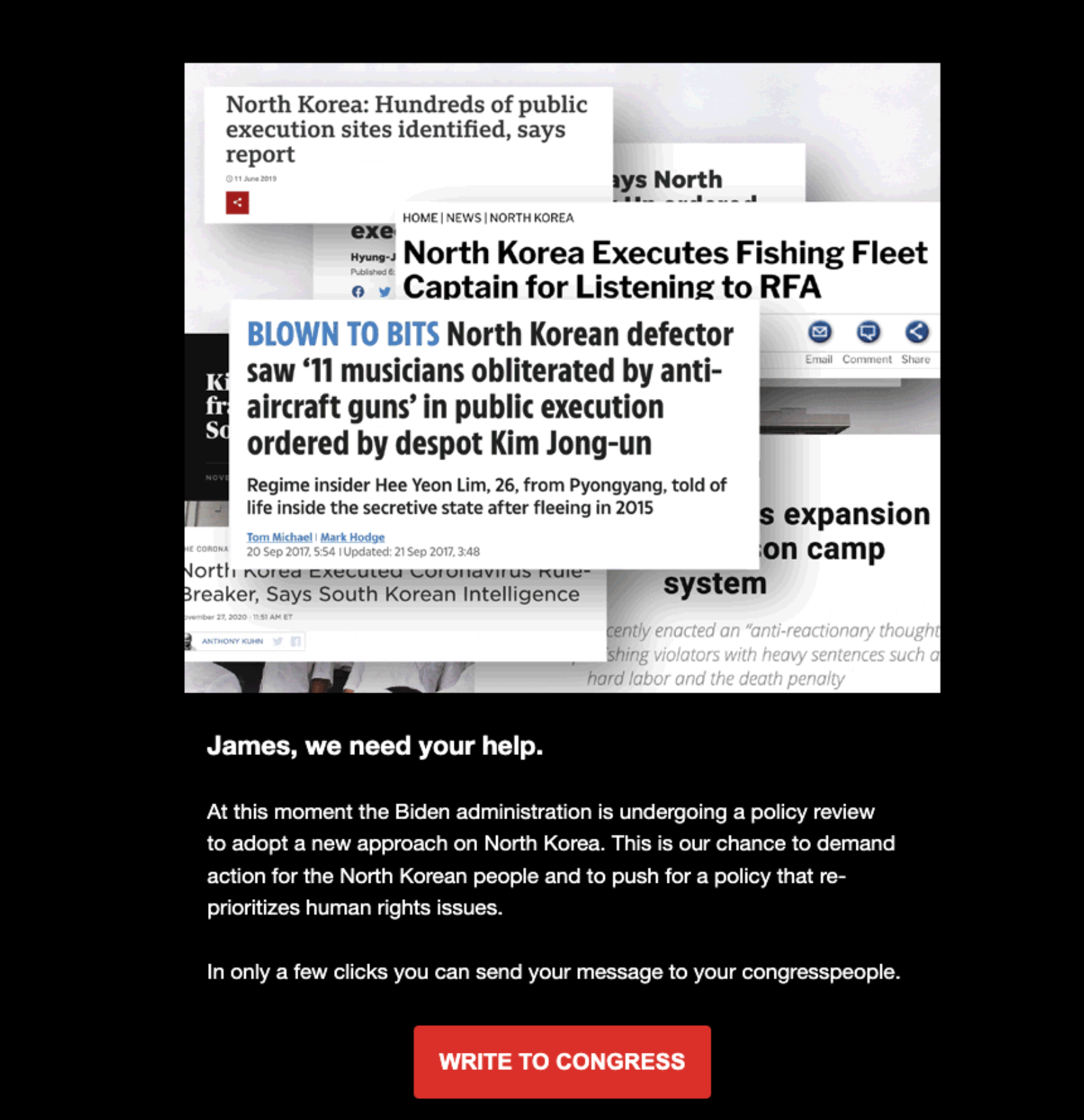 This kind of strategy requires lots of planning ahead and effort to coordinate a content calendar that anticipates major geopolitical events. This kind of effort can be translated for each organization.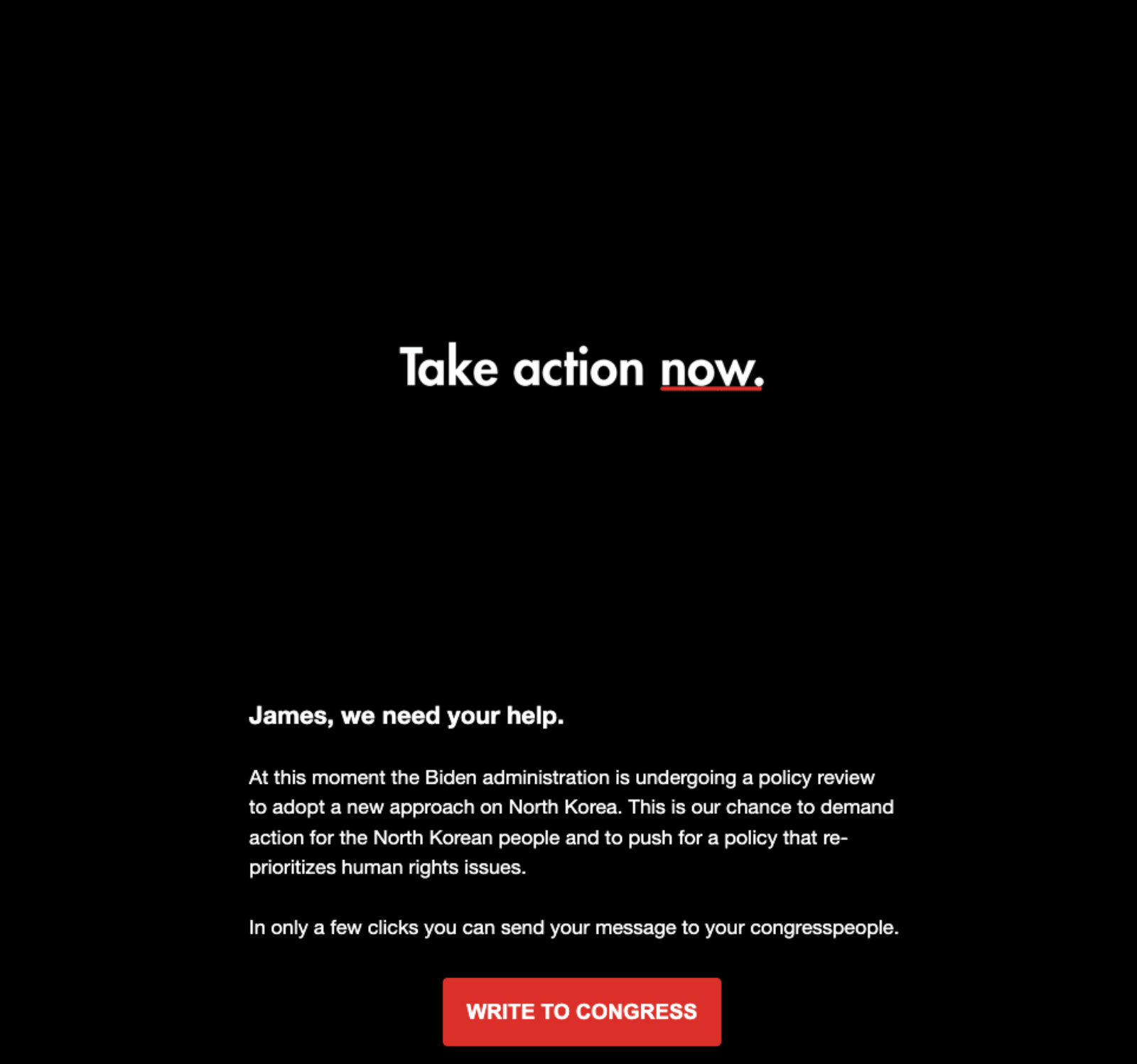 Automated emails announcing an upcoming special event such as live webinars are effective engagement calls to action. Special events present a fun way to increase further engagement by using registrations and sign up forms that are convenient, well-designed and easy to use.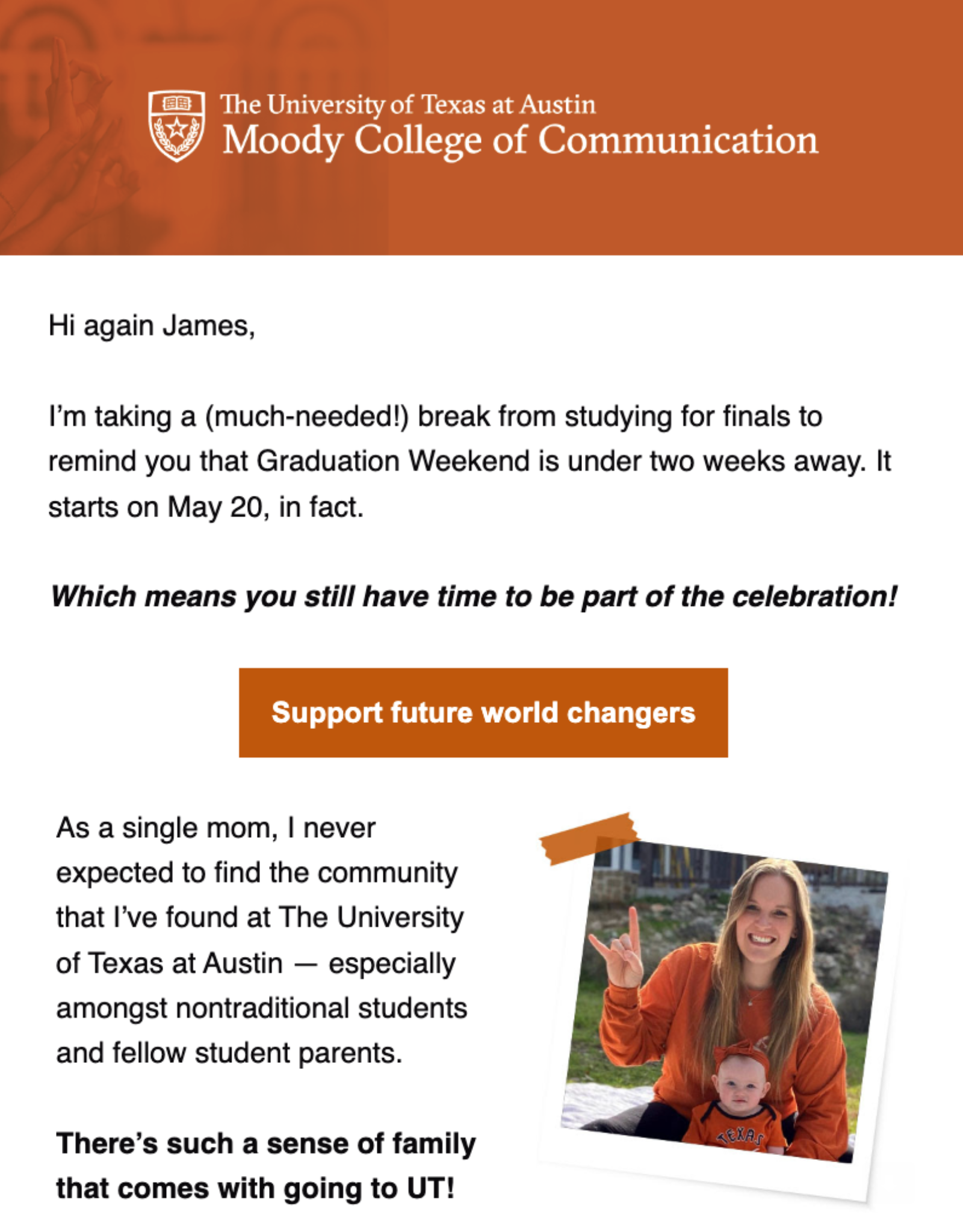 Public universities boast an impressive email list of alumni to tap into for donations and volunteer work. Regular newsletters scheduled out to foster donor relationships with alumni may be based on various age groups, past areas of study or interests.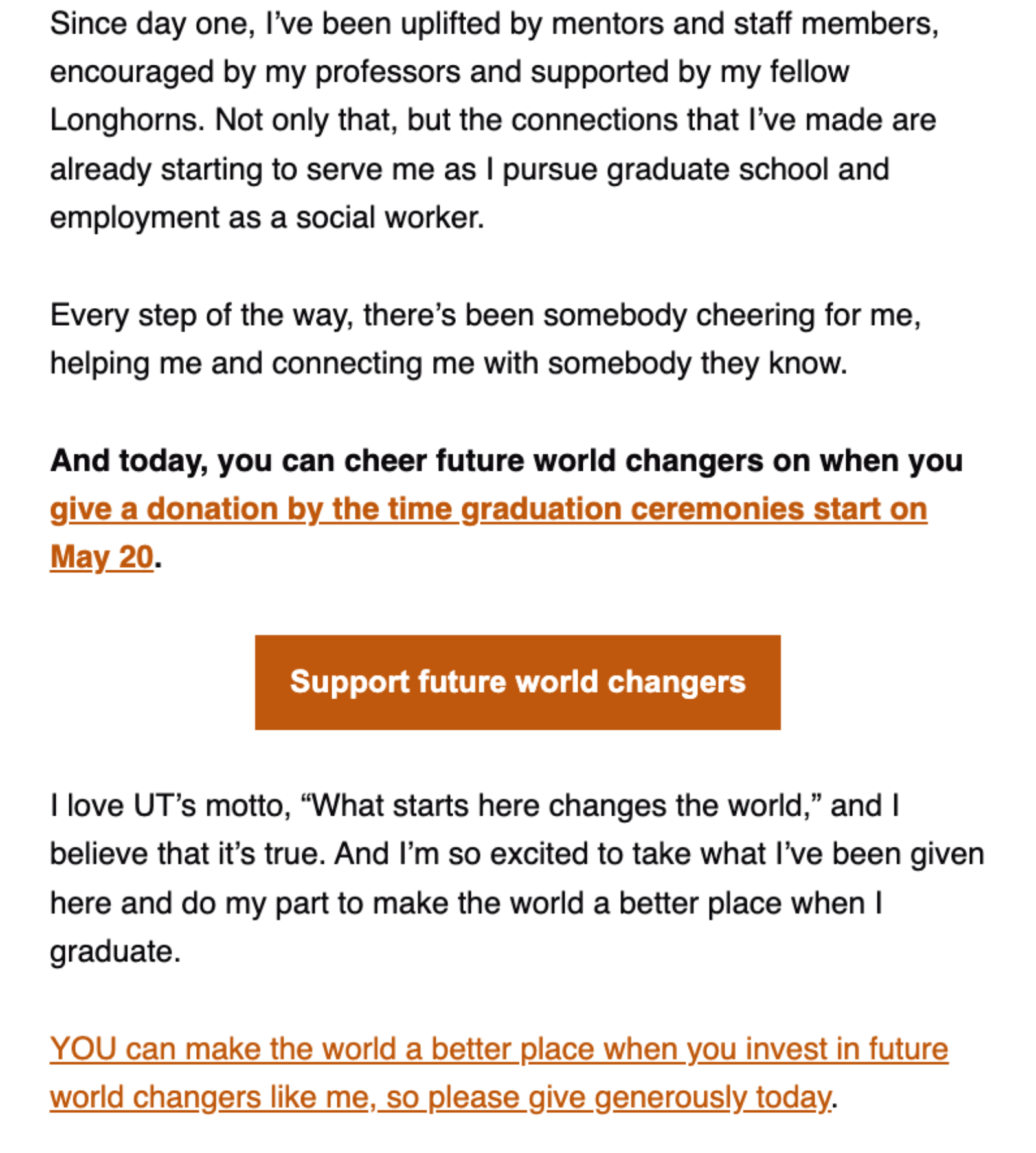 Newsletters are a perfect way to write content for a particular demographic within larger email lists. It can be specific enough to resonate with those in the same life-stage and interest and to build camaraderie with fellow alumni.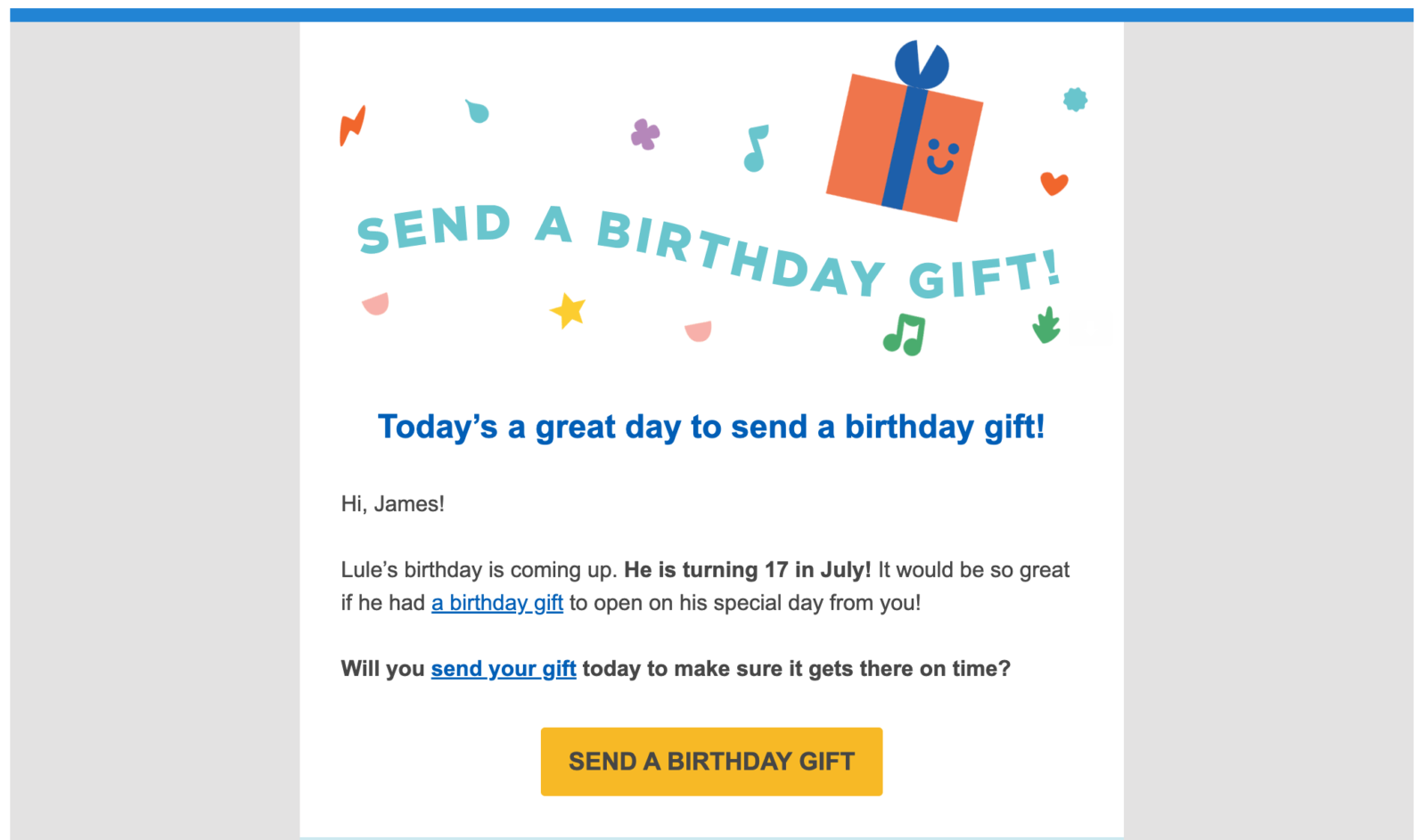 Compassion International does a superb job of engaging with their child sponsor supporters. A thoughtful and well crafted reminder email of a child's upcoming birthday comes every year.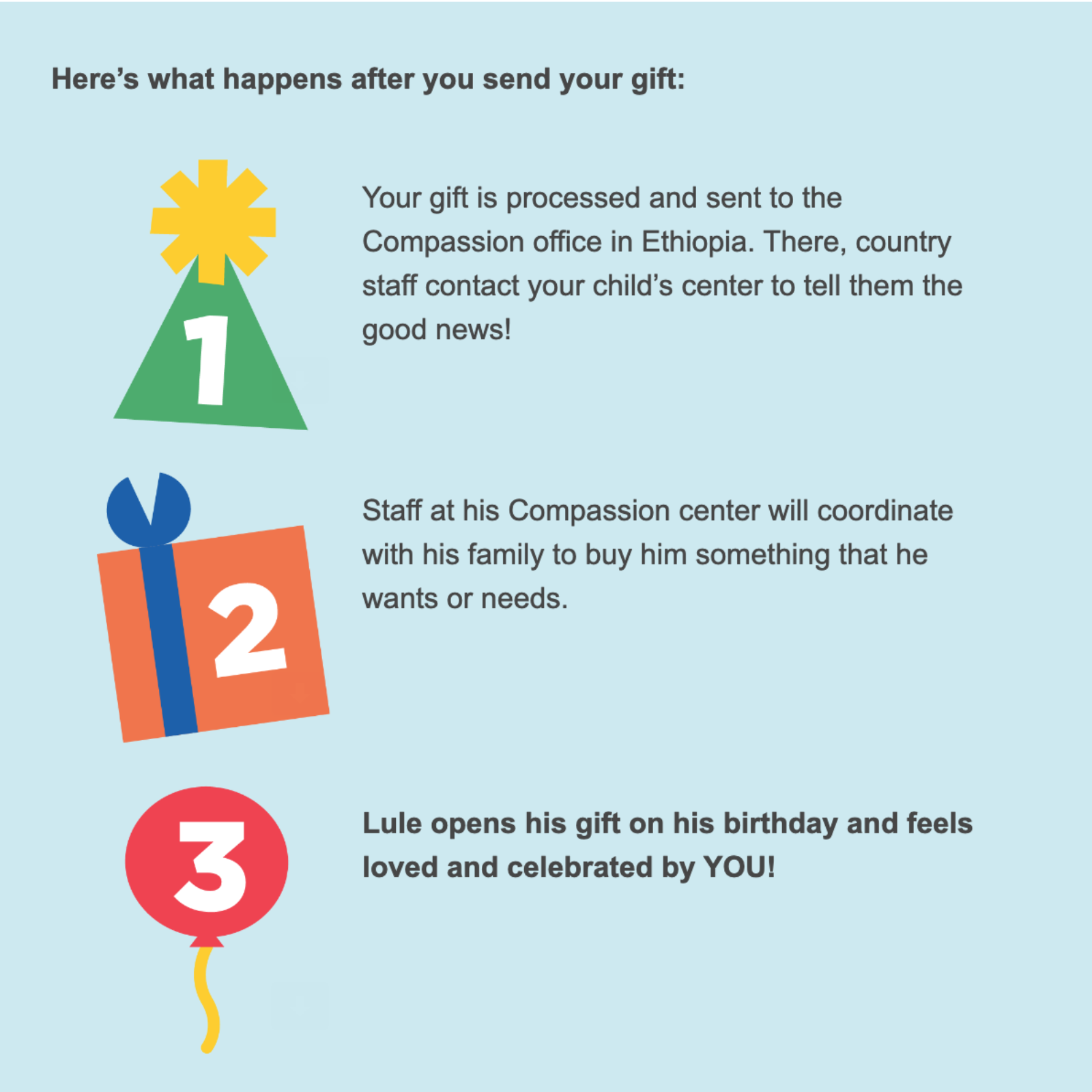 A nonprofit for child sponsorship with many thousands of supporters can automatically send customized emails unique to each supporter.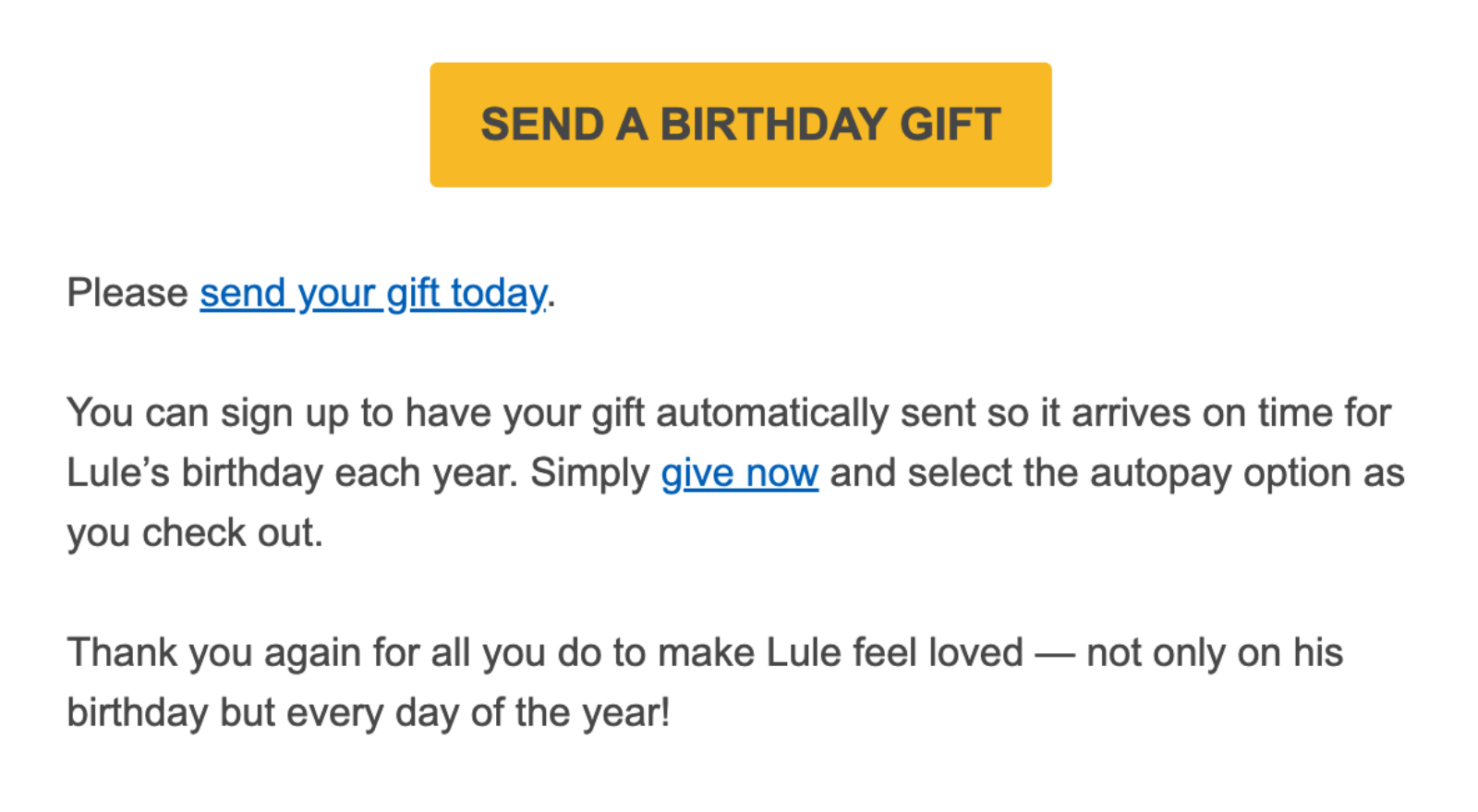 Sponsors are even given an option to opt in to autopay for annual birthday gifts for their child. Sure, corporate staff may set up this kind of automation and may not be directly involved with the children.
However, field staff and local volunteers in their respective countries are instantly notified of the gift so they can buy a birthday gift and present a wonderful gift. The entire process can be seamless and multiplied thousands of times over!
Why Use Automation? The Benefits of Marketing Automation for Nonprofits
The above examples of email automation should already give you the general picture of the benefits of using marketing automation for nonprofits. It's important to note that automation focuses on outbound marketing, or marketing that is pushed out to audiences, as opposed to inbound marketing.
More Personal
Whether it's email, SMS or other form of communication, automation can make every piece of contact personalized based on segmentation. Has this person opened very single email and visited your site once every week? Then schedule consistent messages to further engage the recipient and to encourage becoming an advocate.
More Engaging
The variety of communication helps supporters to find something to resonate with and take action. Automation lends itself to diversifying the levels of education and updates since every piece of marketing goes to a certain segment, and even dynamically changes based on a set of rules.
Consistent Communication
Automated messages can be aligned with the right people, at the right time with the most optimized customer journey path so that partners, affiliates, grantees and other stakeholders feel understood.
Superior Profile of Supporters
Marketing automation for nonprofit organizations gives decision makers insight into user activity from emails, texts and ads along with any meaningful action taken on the website. Instead of blind email blasts to different age groups and locations, understanding what is valuable to each supporter makes all the difference in your marketing strategy.
Single Place to Manage Data
Automation saves you time for the long run. One system holds all the data about communication and journey paths taken by constituents. A single place to manage all that information leads to better marketing decisions that make an impact.
Greater Efficiency
Along with saving time, a nonprofit can reduce costs and repetitive tasks while increasing output. Sure it takes significant setup time, but if your nonprofit is growing with increasing flows of leads, then it might be time to consider implementing an automated system.
Why Marketing Automation Might be a Bad Idea
Every nonprofit marketer needs to carefully assess their readiness and organization's needs. Marketing automation could be a bad route for a number of reasons listed below.
Your Organization is Not Ready
Whether it's the qualifications or skills of your team, or the level of growth in the organization, your team needs to be ready to implement a system that has its purpose and benefits.
A nonprofit must already have a growing list of constituents with a continual flow of meaningful leads like email signups and donors before it's ready to make its manual processes automatic.
Marketing Automation is Poorly Understood
Eventually saving time and effort is not enough justification to create an automated marketing campaign. Nonprofits must fully understand the upfront cost and time it will take to develop a well-oiled journey path for users. And it is no excuse for inept marketers to use something that will make their jobs easier.
Could Risk Damaging Your Brand
Misunderstanding automation can lead to poor execution of customer journeys. This can quickly turn into a tarnished brand and mistrust.
Costly
Marketing automation can come at an enormous cost and negative impact if a nonprofit prematurely decides to implement this strategy. The cost is brand reputation and dollars spent on something that may not be needed just yet.
What's Beyond Marketing Automation?
We highly recommend each nonprofit assess at least the short list presented in this article about the pros and cons of marketing automation.
This is readily available technology that most companies in for profit use as standard workflows. Nonprofits should also have an eye toward leveraging the latest technology to maximize impact. Decision makers at the top who are tech-savvy need to buy in, and some form of outside help like consultants are often part of the equation.
Even AI writing tools can also be a viable tool for nonprofits who truly need to keep up with growth, but such tools are in hot debate. AI marketing copy with marketing automation could save a lot of time and money, but is the workflow worth changing for nonprofits?